Rang De Basanti: The Symphony of Yellow and spring
For anybody who understands Indian culture or is simply curious about the elements, the significance of colours is one of the first things that will strike a chord with them. Colours play an important role religiously and culturally, defining moods, celebrations, and occasions, not just in India but all over the world. However, it's the diversity and the intensified fusion in everyday life that enriches its meaning in the Indian context. Even in our world at Padmashali, colours are a defining element in every creative rendition.
One such colour that is embedded in the roots of Indian culture is yellow. Contextually as well, many popular phrases used in households pay an ode to yellow like 'Peeli Dhoop', and 'Haath Peele Karna'. It is also a colour deeply associated with 'Basant Ritu' or the spring season. Ever wondered why?
Traditionally, women wear a yellow colour suit, yellow colour saree, and yellow colour lehenga to celebrate the spring season or perform the 'Basant Panchami' rituals—a day of religious and cultural significance. 'Basant Panchami' is also known as 'Saraswati Puja', a day dedicated to worshipping the blessings of Goddess Saraswati in the form of learning, wisdom, music, and aesthetics. Goddess Saraswati's appearance is often visualized in a white colour saree, decked with white flowers and pearls, throned on a lotus with a 'Veena' in her hand. However, during the festivities and the rituals of Basant Panchami or Saraswati Puja, her idol is decked in a yellow colour saree. It is believed that yellow is also Goddess Saraswati's favourite colour.
(Shop this Golden Yellow Banarasi yellow colour saree on Padmashali featuring geometric fish-scale like design)
Amongst young and married women, apart from yellow colour sarees, yellow colour suit and yellow colour lehenga are now a popular choice to dress for Basant Panchami festivities. The colour yellow for Basant Ritu or spring draws its inspiration from nature. The freshness of spring makes nature come to life with the chirping of the birds and blossoming of blooms. Beautiful marigold, daffodils, lilies, and hyacinth, naturally found in the colour yellow, clad fields, and gardens. Spring also sees the second phase of 'Sarson-clad' or mustard flower-clad fields for the season that are dressed in a gorgeous shade of bright yellow. Hence, nature plays a huge role in deriving yellow as the colour of the season.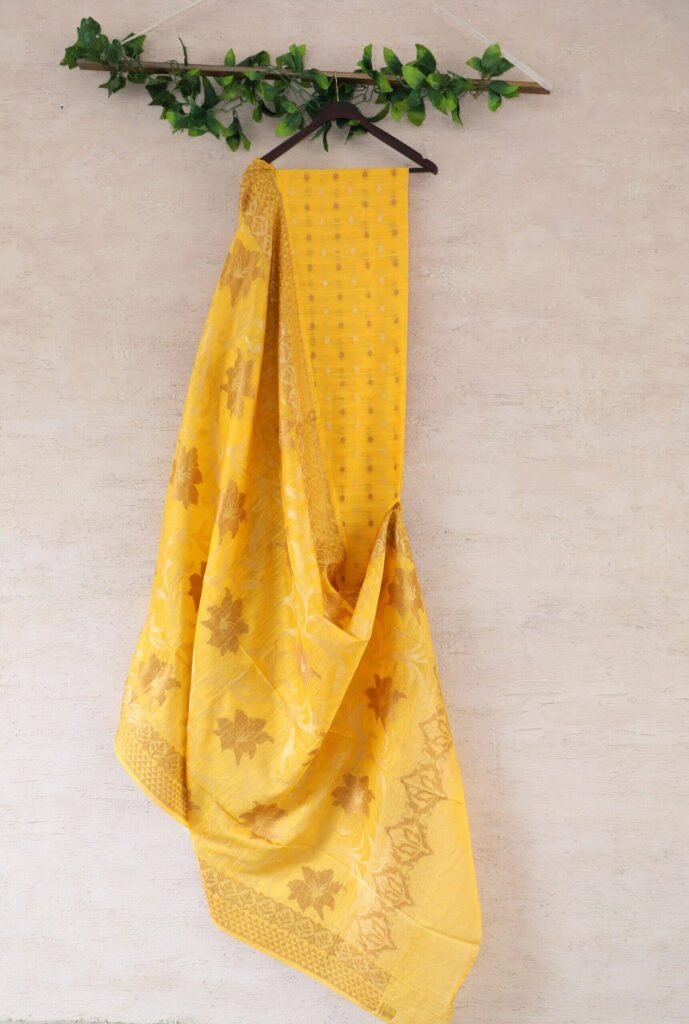 (Shop this yellow colour suit made in Banarasi weave with Butidar kurta and floral Jaal Dupatta on Padmashali)