Bandhani, a term derived from the Sanskrit word 'Bandh' meaning 'to bind' or 'to be tied with', is an instant, colorful, and refreshing memory of the heritage of the evergreen Gujarat. But did you know Bandhani is actually popular among several communities not only from Gujarat but other states like Rajasthan, Punjab region, and Tamil Nadu where it is also called 'Sungudi'? Bandhani is a form of historic tie-and-dye handloom technique that is loved by ethnic wear connoisseurs not just in India but the world over. However, the real history of this traditional art can be traced as far back as 4000 B.C. to the Indus Valley Civilisation.
Popularly seen as Bandhani Dupattas, Bandhani sarees, Bandhani Lehengas, and Bandhani suit design, the process itself of creating the fabric that delivers the ethnic wearable is meticulous, highly skilled, and art, early forms of which date to over 5000 years ago. To begin the process, usually, the silk or cotton fabrics are tied into several knots, also known as 'Bheendi', forming patterns by hand. These patterns may be scattered, linear, or organized to create a specific type of design/motif associated with Bandhani. A wearable whether a Bandhani saree, Bandhani Dupatta design, Bandhani Lehenga, or Bandhani suit design may have anything between 1 to 10,000 knots. However, more intricate Bandhani work in Bandhani Dupattas, Bandhani Lehengas, Bandhani Sarees, and Bandhani suit designs may even have up to 75,000 knots! Indeed, it is a true labour of love.
The handloom fabric, designed by expert artisans, is then dipped in dye to derive the color as well as breathe life into the pattern created by the knots. Traditionally dyed using natural tints like turmeric, vegetables, flowers, and leaves, Bandhani fabrics are usually bold, bright, and colorful. However, modern iterations of this handloom art have seen patrons enjoy muted, subdued, and trans-seasonal shades like pastel violets, blues, peach, yellow, and beyond.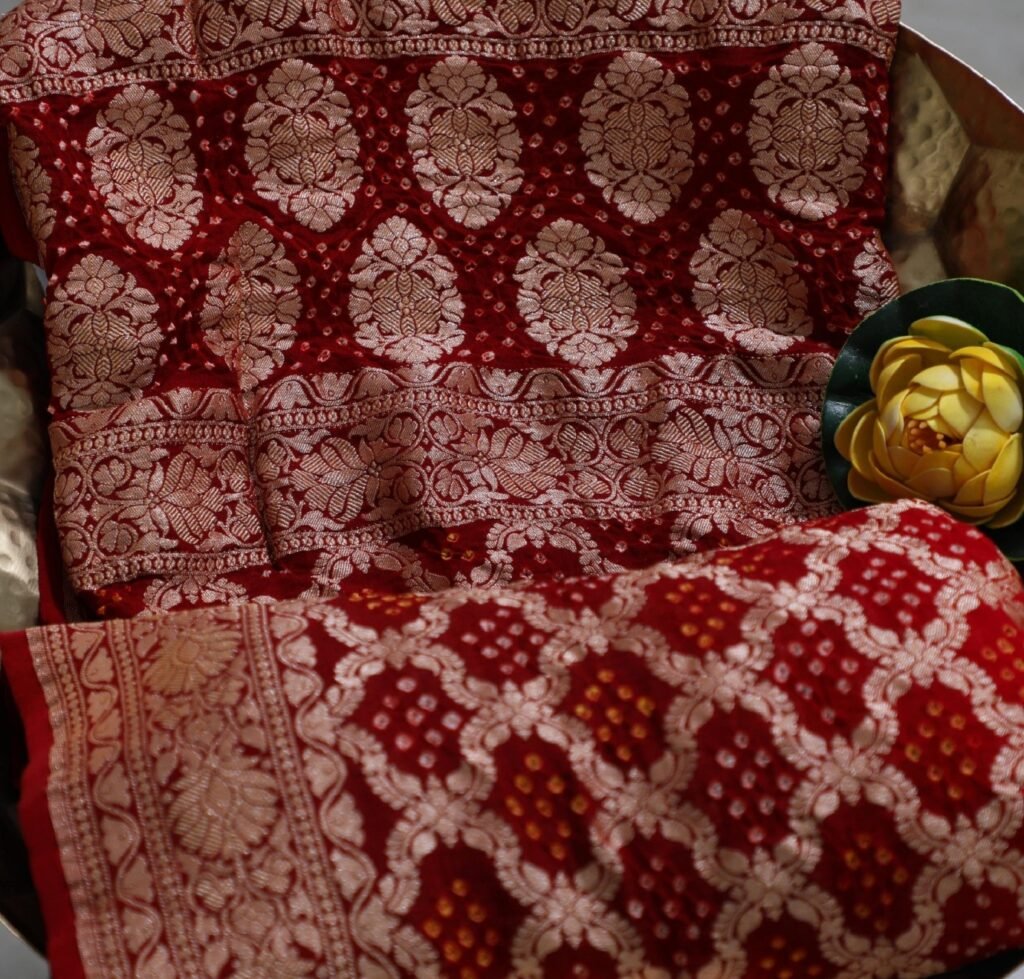 Based on the technique of 'Bandhana', Bandhani may be classified as Mothra, Ekdali, and Shikari, and that results in forms of various patterns like Keri (paisley/mango), Leher (waves), Chakli Chaklo (elaborate squares with female and male sparrows), Vaagh (tiger), Padma (lotus), Veldaar (creeper-like), Jaaldar (net-like), and Panihari (female carrying a pot of water). These clusters, combinations, and complicated iterations of these designs may result in Ghar Chola which refers to garments usually worn at home, Shikari depicting a creative imagination of a hunt on fabric, Khombi referring to a traditional design on maroon or red fabric for brides, Chandrokhani featuring a moon in full bloom as the centerpiece usually worn by brides, Raas Mandali which depicts the traditional art form of Garba or Radha-Krishna's 'Raas' on the fabric, and a whole gamut of renditions.
Modern-day Bandhani, or 'Bandhej', has caught the fancy of many designers yet the art lives through its traditions tucked away in the quaint corners of metropolitan Gujarat like Kutch, Jamnagar, Ahmedabad, Rajkot, and other regions. Thereon, with the growing popularity of this handloom art, authentic brands like Padmashali, have taken this art to the world. Whether it is shopping Bandhani silk Dupattas online, Bandhani Ajrakh Dupatta, Bandhani saree, Bandhani Lehenga, Bandhani suit design, stoles, and other ethnic wearables, Bandhani has now found its way into the closets of people who appreciate the heritage of this artistry that keeps us tied to a beautiful heritage of history, skill, colors, and beauty.
Due to its versatile nature, Bandhani may be lightweight and easy to carry, which resonates with summers especially as Bandhani Ajrakh Dupatta and Bandhani sarees in cotton. They also add a pop of color to your wardrobe. However, intricately done Bandhani sarees, Bandhani Lehengas, Bandhani suit designs, and Bandhani silk Dupattas online or otherwise, may be rich evening wear as well to dress for occasions and weddings. With Padmashali, you will also find a traditional yet modern fusion of Bandhani with Banarasi in Bandhani suit designs paired with Bandhani Dupattas.
Check out a whole range of Bandhani wearables on Padmashali